watch the movie on AMAZON HERE: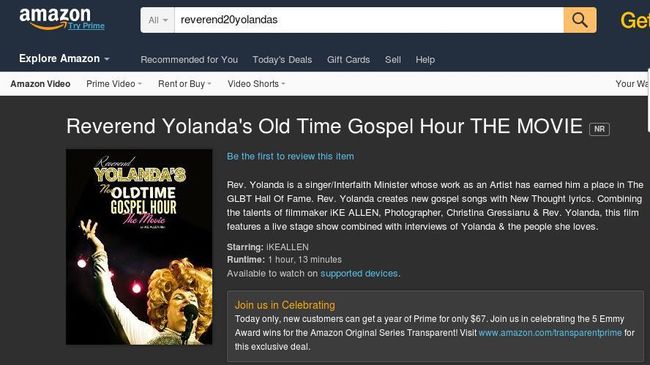 Yolanda Trailer 7.22.2014 from AVAIYA MEDIA
Here's what people are saying:
from Rev. Laurie Bell- Interfaith Minister, intuitive counselor, Reiki Master and Therapeutic Touch practitioner (http://lauriebell.net/)

"I just saw the movie and I loved how beautifully it expresses the essence of Yolanda's life and his life-work.

The way it contrasts his performances and his personal life, especially his marriage with Glen, highlights the pureness and courage of his commitment.

He truly is "walking the walk" and embodying his path, which is rare, and in doing so is freeing many people to accept themselves and to be authentic.

Thank you for making this movie."

******************************************************

from award winning singer songwriter producer Freddy Freeman
(https://itunes.apple.com/az/album/raise-it-up/id919762895)

" Although I felt it could have been something bigger with interviews and more of your history, it turns out that it perfectly serves its purpose. Your speeches in between songs are a perfect capturing of your philosophies. Your sincerity comes across, and the engagement of the show is captured nicely. I especially love the fact that Glens perspective so beautifully illustrates that its not about perfection.. We can open up to the light of God and still have "human" idiosyncrasies."

********************************************************
 
from Allyah Frish- psychic and energy healer (www.sanctuaryofthewhitedove.com) :
"There is a deeper level to this film than the general populace would expect from the promotion. It brings Rev Yolanda out into the mainstream. I was in tears throughout the whole movie. Ike Allen tastefully explored the depths of this gentle soul's journey to awareness and path of service in this life. Ike took a controversial subject and made a tender tribute. I believe many were confused by the promotion--possibly expecting something campy, but instead found Rev Yolanda to share her personal journey to being authentic. She is definitely a joy to see and she is certainly fun, but, take the outside expression away, and you have a gentle soul revealing a personal journey that has brought her and her husband Glen, reaching out to others who are searching for their own light. This spiritual awakening is not limited to specialized groups or communities but found across the board in all humanity. To experience her, is to connect to the feel of Source. I know that is a huge statement , some may not agree, but is that not what we are all reaching for-to find our greater light. Source expresses itself in many forms, and when you meet someone who opens your heart unconditionally- you are experiencing divine love. Thru out the movie, She constantly refers that we are all family and need to communicate with each other to understand our differences and to listen and accept thru awareness. After all we are one in heart. I learned so much myself watching this movie through her words and journey. Her song, We are angels is what lead me to seek her out. I believe i have met a earth angel in the now and am honored to reconnect with her."
*****************************************************************************************************
...and here are some clips from the movie: