Building Bridges of Love and Compassion between Diverse Communities through the Power of Inspirational Entertainment.
Official Brief Bio:
Rev. Yolanda is a trans femme gender queer actor/singer/songwriter/performance artist & interfaith minister, originally from Muscle Shoals, Alabama- The Hit Recording Capital of the World. Rev. Yolanda has been making music/theater/TV/film/performance art for well over 35 years, winning the NYC MAC Award twice and inducted into both the NY Blues Hall of Fame and The GLBT Hall of Fame.
Rev. Yolanda and husband Rev. Glen Ganaway are the founders of the "spiritual happening" called Church With A 2 Drink Minimum. Rev. Yolanda is also a founding member of NYC-based organization, Drag Story Hour NYC. Her most recent projects during the Pandemic years are Sounds of Awakening-an inspirational music program hosted by Awakening-Together.org,  "YolandaNanda" a cd, based on her love for mantras of the Buddhist, Hindu, and Sikh traditions, "Skeleton Crew" a 5 season LGBTQAI Soap Opera webseries, and Alien Love Child Musical, an autobiographical webseries in development as of 2023. 
Personal note from Rev. Yolanda, 2023:
I am a trans femme gender queer singer songwriter and interfaith minister originally from Muscle Shoals, Alabama, "The Hit Recording Capital of the World". I'm influenced by the music of my hometown,as it intersects with the spiritual spectrum.  All the way through my life, creating art that reflected my journey in all of its challenges and enlightenment, has been what I believe is mine to do in this lifetime.
I release inspirational music at this challenging time in world history because I am choosing to RISE higher than ever before. I know in my heart that many people across the globe are also choosing to RISE to co-create together a new human experience on this planet. One that values all life, because all life is ONE and EVERYTHING in life is HOLY.
This is the reason I make music and offer my latest projects to you. This creative process has given me some Hope and Light, and I hope it blesses you on your journey.
Longer Bio:
Rev. Yolanda (she/her/hers)- trans femme gender queer actor/singer/songwriter/interfaith minister... aka Roger Anthony (Tony) Mapes is a 2015 inductee into The Blues Hall of Fame and 2015/ 2014 recipient of The MAC Award (Manhattan Association of Cabarets and Clubs). An accomplished, award-winning singer/songwriter, performance artist, and Interfaith Minister.
Yolanda was born as Roger Anthony Mapes (nicknamed "Tony") in Muscle Shoals, Alabama -The Hit Recording Capital of The World. Tony joined a Jesus Freak Hippie Commune called "The Jesus Manor", and his first band, "Stained Glass Bluegrass", when he was only 17 years old, and still a "he".
At age 28, "Tony Mapes" moved to New York City and began exploring theatre and performance art in the 80's East Village arts scene. During this exploration he (still a "he") met The Radical Faeries in NYC and moved to a Radical Faerie Community in Vermont. It was during this time that Yolanda -trans femme gender queer- was truly born (now a "she").
Yolanda developed a loyal following in Vermont with her Public Cable Access TV Show (with sister drag performer Cherie Tartt) called The Cherie and Yolanda Show. She also developed her original musical blend of rock, pop, country and jazz with her band Yolanda & The Plastic Family and celebrated the release of her first CD Welcome To Yolanda World .
In 1999 Yolanda was invited to be a regular performer at CBGB's new Queer music night "Homocorps". In 2001 Yolanda moved back to NYC. She rocked the downtown scene in NYC performing at Meow Mix, CBGB's, Webster Hall, The Duplex, Sidewalk Cafe, and The Cutting Room. In 2003 Yolanda was awarded OutMusician of the Year , and recorded a critically acclaimed solo cover of the ABBA tune "Lay All Your Love on Me" on the Abbalicious CD (FigJam Records).

Yolanda was inducted into the GLBT Hall of Fame for Activism, Art Excellence and Community Awareness in 2005. It was around this time that Yolanda began a spiritual journey which led her to One Spirit Interfaith Seminary where she became Rev. Yolanda, an ordained Interfaith Minister in June of 2011. That same year the song "I Wanna Know" from her CD House of Joy made it to #1 on the OutVoice Music Charts and "Love Divine" was included on a special first edition collection of GLBT Christian singer/songwriters.

Rev. Yolanda's Old Time Gospel Hour -the live, autobiographical Gospel Music show was realized in January of 2014 and awarded with a MAC Award. She also released another album-Country Gospel Kirtan. "Home" from that album was voted the #1 song of 2013 on the OutVoice Music Charts.

Rev. Yolanda has been seen on HBO''s "High Maintenance", "Family Stories" for the Discovery Channel playing Vivian Wheeler (the current Guiness Book of World Record-holder for bearded lady), and a feature film about her life by director Ike Allen released in 2015. 2015-Present, Rev. Yolanda is an actor on 3 web-series "Skeleton Crew", "The Art of Blowing It", Demon Doctor", as a recurring series regular, and still recording new music.
other musical works include:
"CHURCH WITH A 2 DRINK MINIMUM" (creator, producer, composer, lead performer; 2016-present) a monthly spiritual "happening" at Sidewalk Cafe, NYC - online during the Pandemic;
"WELCOME TO THE DOLL DEN," (co-creator, co-composer, co-lead performer 2016-present; Dixon Place and The Tank, NYC with Electric Eye Ensemble);
"REV. YOLANDA'S OLD TIME GOSPEL HOUR" and "BE THE LOVE" (creator, producer, composer, and lead performer in NYC and national tours; winners of the 2014 and 2015 MAC Award for Best Drag Artist).
"HOUSE OF JOY" (The Laurie Beechman Theater, NYC and various LGBT PRIDE celebrations across the US)
"YOLANDA AND THE PLASTIC FAMILY" (Wigstock, monthly NYC gigs at CBGB's & Meow Mix, The Laurie Beechman Theater) 
"ALIEN NIGHT JOURNEYS." - a New Age Fantasy
NYC Theater credits include:
STONEWALL, A RHAPSODY ON RESISTANCE (AEA Showcase),
SPOOLIE GIRL (AEA Showcase)
Yolanda's albums include:
"REV. YOLANDA'S COUNTRY GOSPEL KIRTAN VOL 1," and "VOL. 2" (Grammy nomination, best Christian Artist)
Education includes:
MFA in Performance Art from Vermont College of Norwich University
MA in Theater Performance, specialty:  "The Oral Interpretation of Literature" .
Blues Hall of Fame award winner
GLBT Hall of Fame award winner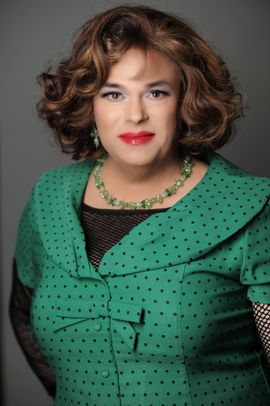 " Dolly Parton plus Louise Hay, with a heapin helpin of Mrs. Doubtfire ! "
Rev.Yolanda's music ministry is called:
 "A TRANS-tastic, Interfaith, Interspiritual, God Optional Musical Celebration of Life ".
Singing together, laughing, having brunch and celebrating life with inspirational music and message, welcoming all paths and traditions. We affirm the Sacred Mystery within, and embrace the diversity of humankind.
Rev. Yolanda's MAC Award wining cabaret show:
"Rev. Yolanda's Old Time Gospel Hour"
is also a full feature documentary by Ike Allen of AVAIYA MEDIA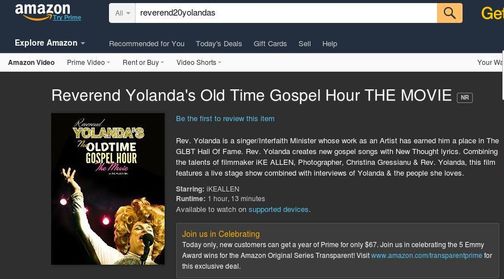 ******************************************************************************************
Even More Info:
Rev.Yolanda is an eccentric, and ecstatic performer with a southern rock, country gospel style. Bringing the message of Non Duality into every event by merging GLBT and Mainstream Popular Culture with Integrated Spirituality. With a soulful voice, a message of oneness, great costumes, and a wicked sense of humor, Rev. Yolanda's shows and CDs emphasize love, beautiful melodies, interesting stories, and a bit of inspiration.
Rev. Yolanda was born and raised as Roger Anthony Mapes in
Muscle Shoals, Alabama, The Hit Recording Capital of the World
and the birthplaces of
Helen Keller and W.C. Handy.  
The Muscle Shoals area is populated by an abundance of musicians and visual artists/painters. Yolanda began studying music, painting and drawing at a young age with local artists and was encouraged to develop her own unique vision, which combines GLBT culture, drag performance, personal spirituality, and a love for Old Time Gospel Music. Yolanda is influenced by pop, rock, blues,gospel, country, and folk, but doesn't self-consciously follow any one tradition…combining them all into a hybrid of her own.
Yolanda is also a fine artist, who paints abstract expressionist paintings.  Her paintings on canvas and clothing are in private collections all over the world.
Rev. Yolanda's art gallery here