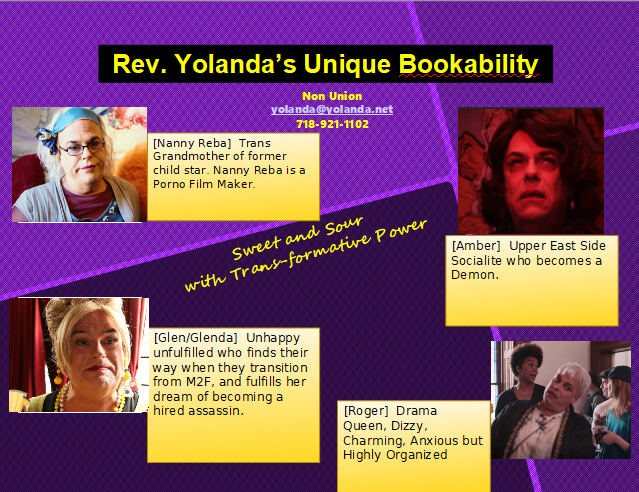 Rev. Yolanda: yolanda@yolanda.net, www.RevYolanda.com
SAG-AFTRA (eligible) - Fully Vaccinated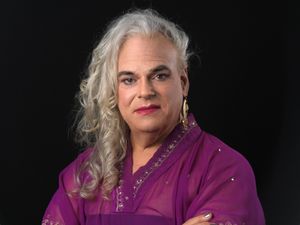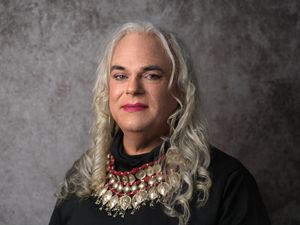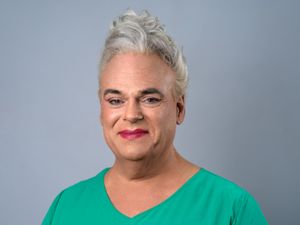 Television

 

High Maintenance (Season 2)

Co-Star

HBO

 

Family Stories:Vivian Wheeler,Bearded Lady

Guest Star

Discovery Network

 

The Dave Chapelle Show

Co-Star

Comedy Central

Film

 
I Am Never Alone

(with Deepak Chopra)

Michel Pascal
 

Last Night In NY

Supporting

Joe Zohar

 

Rev. Yolanda's Old Time Gospel Hour

Lead

Avaiya Media

 

The Man From Everywhere

Supporting Lead

Idealist Productions

 

What's The Name Of The Dame

Lead

Spotted Egg Pictures

 

 

Web Series

 

 

 
The Art of Blowing It
Series Regular
Sidekick Productions

 

Skeleton Crew (5 Seasons)

Series Regular

Sidekick Productions

 
Demon Doctor

Recurring Guest Star

Sidekick Productions

 

xHamster-The Box

Guest Star

xHamster

 

 

Theater (partial list)

 

 

 
Alien Love Child Musical
Rev. Yolanda
BRIC Media Arts
 

Stonewall (new musical- AEA workshop production)

Drag Queen

Aron Grant Theatrical

 

Rev.Yolanda's Be The Love (MAC Award)

Rev. Yolanda

Bearded Lady Prod

 

Rev.Yolanda's Gospel Hour (MAC Award)

Rev. Yolanda

Bearded Lady Prod

 

Welcome To The Doll Den (off off Broadway)

Doris

Electric Eye

 

Spoolie Girl (new musical- AEA showcase)

Eddie

Urban Stages

 

March Of The Falsettos (Regional Theater)

Marvin

Theatre Memphis

Training

 

Voice

David Friedman

Studio 150

 

Musical Theatre

Robert Vest

AMDA

 

TV/Film Acting

Brette Goldstein

B. Goldstein Casting

 

TV/Film Acting

Canedy Knowles

Actor's Green Room

 

TV/Film Acting

Jen Rudolph

Actor's Green Room

Skills, Awards and About
Singer, Rhythm Guitar, Songwriter (pop rock gospel country)
Award Winning Recording Artist (NY Blues Hall of Fame, 2 MAC Awards, GLBT Hall of Fame, Stonewall Society Award, OutMusician of The Year Award, Fresh Fruit Festival Audience Favorite)
Spiritual Person Stuff: Interfaith Minister, Tarot Card Reader, Lived in 2 communes in my life- "The Jesus Manor" and "The Radical Faeries."  I'm also a channeler of thoughts or energies from a source believed to be outside my body/mind- specifically- my artwork and music speaks/shows up for nonphysical beings or spirits. Don't worry- my sanity is intact. 
Visual Artist (painting/drawing)
Children's Storyteller with Drag Story Hour NYC
Home Chef- inventor of unique cuisine/cookbook called "Elvishna"
Life Long Cat Whisperer