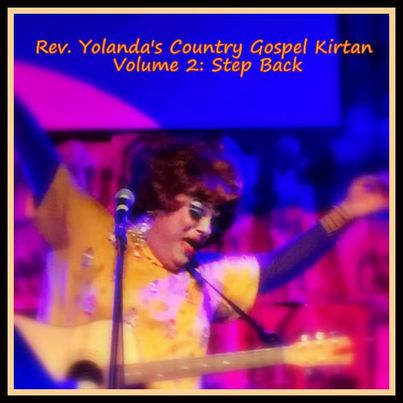 Review by Pamela Degroff of Transgender Forum, Dec. 19, 2016:
"This is Rev. Yolanda's long anticipated follow up to her 2012 release of Country Gospel Kirtan Vol. 1 God Is. We posted an extended two-part interview with Yolanda in August and earlier in the year, in April, we ran a review of her 5 song EP of her song We Are Angels. Also included at that time were short reviews of two tracks from Vol.2, I Am Blessed and Hush Of Heaven.

What makes Vol. 2 Step Back completely noteworthy (i.e. different) from Vol. 1 is the musical diversity found therein. Don't be fooled by the title — it's definitely not all country. The tunes that fit the country genre, though,  are the traditional I Am A Pilgrim, Grace Goes With Me, and God Has Condemned Me Not.

The diversity factor is found especially in the East Indian influenced So In God's Hands and Hare Om Tat; Miracles Are Seen In The Light (which contains O Come O Come Emmanuel at the start, kind of as a monk's chant, which then turns into something akin to Scarborough Fair, making it a mix of Celtic, folk and madrigal); Step Back (very churchy and recorded live) and the very layered Hush Of Heaven.

One total surprise is the cover of the old Doobie Brothers Jesus Is Just Alright, done as Interfaith Is Just Alright.

The outstanding tracks are Somebody Save Me (full band sound, laid back yet somewhat bluesy), and Let Go Of Grievances (country funk, but with a diversity of instrumentation, and overall the best production moment on the entire project.)

Musically, Country Gospel Kirtan Vol. 2 Step Back is one of the biggest steps Rev. Yolanda has ever taken. While the Interfaith theology might not be to everyone's personal taste or beliefs, Yolanda's dynamic as a musician and as a deeply spiritual person are not in conflict, nor are they diminished in any way. Both attributes of who Rev. Yolanda is as a person compliment each other greatly.  

Produced by Freddy Freeman. Yolanda, lead vocals. Backing vocals by Yolanda, Freddy Freeman, Jay Freeman, Tom Workman. Acoustic guitar, Yolanda and Freddy Freeman. Freeman, all other instruments and samples. The link to buy the cd is here: www.cdbaby.com/revvyolanda or on Amazon. itunes and all digital out lets.