Blogosphere
BE THE LOVE-final NYC show
Love is the way I walk in Grattitude...
I am so grateful for YOU. Its only Febuary and YOU have co-created a wonderful year with me already. Just last week I was inducted into The NY Chapter of The Blues Hall of Fame at BB King's in Times Square to a standing room only crowd!!

and then I went to Burlington VT to celebrate 20 Years of the biggest fund raising party in VT, for The VT PWA Coalition -WINTER IS A DRAG BALL created 20 years ago by me and my dear friend Christopher Moes, hosted for the past 14 years by
Here I am celebrating 20 years of Winter Is A Drag:
I also had the privilege and joy of reuniting with my dear drag sister and longtime TV show co-host Miss Cherie Tartt. We reunited in Burlington VT after 14 years to recreate our hit TV show
"The Cherie and Yolanda Show"..... here we are last Sunday at the Vermont Cam studios with our REUNION SHOW. You can see the archive of the show at www.vermontcam.org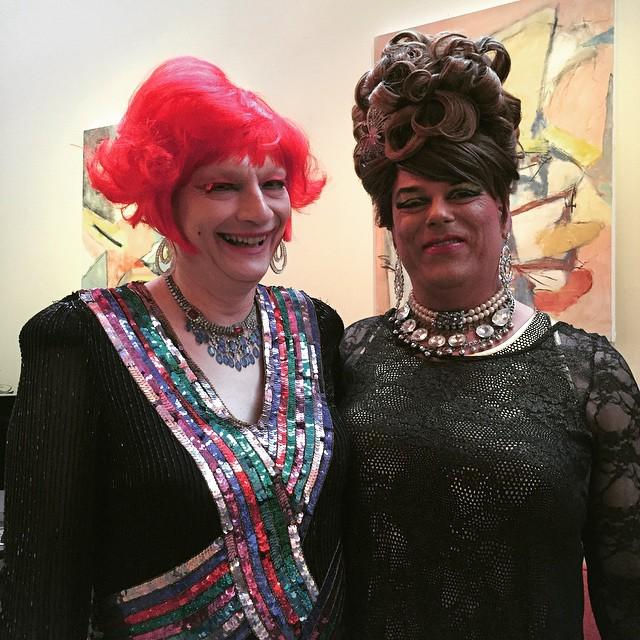 I have already had a lifetime of love and grattitude...AND there's MORE.... JOIN ME IN NYC ON MARCH 12 for the final NYC show of:
| | |
| --- | --- |
| Title: | Rev. Yolandas Old Time Gospel Hour, BE THE LOVE |
| Date: | 3/12/2015 (Thursday) |
| Address: | The Duplex, 61 Christopher Street @7th Ave., NY NY 10014 |
| Location: | New York, NY |
| Hours: | 6:30pm |
| Cost/Cover: | $12 MAC, $18 general advance online $22 Day of Show, 2 drink minimum |
| Web Page: | http://www.yolanda.net |
| Discounts: | http://www.yolanda.net |
| Contact Info: | Rev. Roger Anthony YOLANDA Mapes: yolanda@yolanda.net Info & reservations: (212) 255-5438 |
Details:

Award winning singer songwriter (The Blues Hall of Fame. MAC Award, GLBT Hall of Fame), Drag Queen and Interfaith Minister - Rev. Yolanda- serves a heapin helpin of LOVE and Acceptance for all people with Traditional and Original Gospel Music!


" I think Rev. Yolanda could charm even the Republican Convention! You cannot help yourself. You love this lady and you love her message and your face hurts from smiling. She also has an incredible voice. Does this sound like a show you'd like to see? Then go!" -Sue Matzuki, Cabaret World, NYC

"You have never quite experienced a show like this. Really. You have not, and you have to see it firsthand."-The Arts Center -Carboro, N. Carolina

"By far, the most outrageous part of Rev. Yolanda's Old Time Gospel Hour is its sincerity. Sure, there's good music and fantastic wigs and plus-size amounts of humor: It's a drag show, after all. But the Reverend Roger Anthony "Yolanda" Mapes isn't skewering faith -- the Rev. is living out his/her beliefs on stage. This mix of camp and candor attracts a wide crowd, including those who would never consider attending a drag show and those who wouldn't be caught dead at a gospel concert. Moreover, Yolanda is a serious musician who, along with skilled collaborators, plays everything from spirituals to original compositions. In fact, "Home," a track from the Rev.'s latest album (Country Gospel Kirtan) has already reached #1 on the OutVoice Music Charts. Time passes too quickly during the hilarious sermonizing -- and effortless harmonizing -- of Rev. Yolanda's Old Time Gospel Hour." -GOLDSTAR -

*******************************************************

I hope you can join me,

Rev. Shawn Moninger-director,

Kenneth Gartman on piano, vocals, arrangements and musical direction- with...

The Yolandaleers: Emily Mikesell on fiddle, Dennis Michael Keefe on bass, and Jim Keyes on guitar/banjo/harmonica for the last NYC showing of

BE THE LOVE!!!!

Thanks ya'll,

Rev. Yolanda
Be the first to respond!